Movement is a huge part of the daily life of a primary child. In the classroom, children are not confined to their chairs; they are free to move as they see fit. Some work while standing up at a table while others lay down near their rugs. The children walk on the Line, skip across the classroom (although we ask them to walk), and run on the playground each day! Dr. Montessori maintained, "It is only by movement that the personality can express itself!"
There are two main ways we work with movement in the classroom:
We offer movement activities aimed to help develop coordination and build gross and fine motor skills. 
We introduce control of movement activities that help the children control their bodies and their actions at will. 
So, in honor of movement AND control of movement, here are a few activities for you to try with your child, as well as a few they can try independently or with a sibling. 
Activities for Movement:
Walking on the Line
ages 3 and up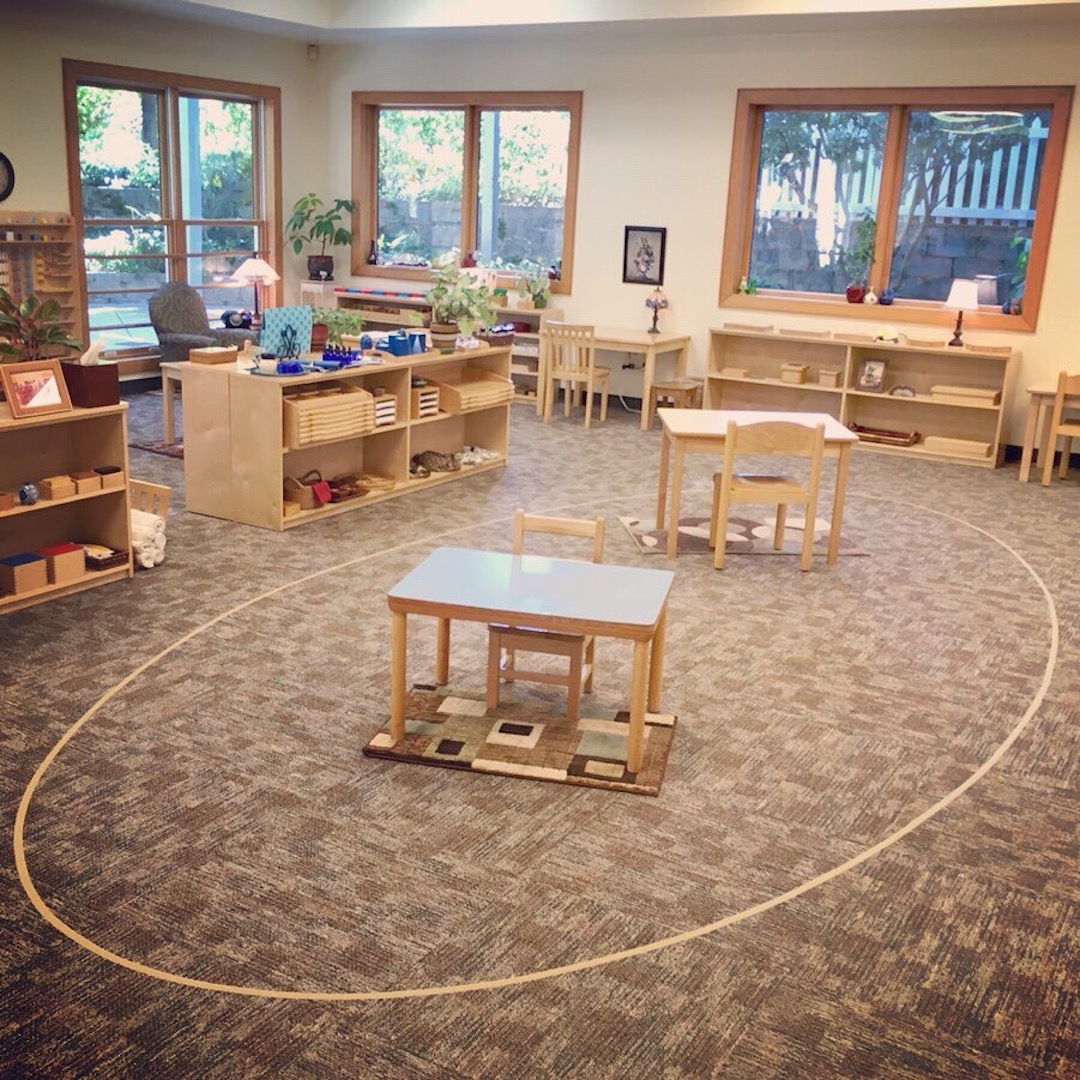 Directions: Make a line around the kitchen using masking tape and walk carefully on the Line. Alternatively, make a line outside using sidewalk chalk for walking in the sunshine. 
Level 1: Walk, keeping both feet on the Line at all times.
Level 2: Walk heel-to-toe, working to keep both feet on the Line at all times.
Level 3: Walk with a bean bag, colander, or basket on your head while walking heel-to-toe, with both feet on the Line. 
Level 4: Walk with a cup of water on your head as you walk heel-to-toe, with both feet on the Line.
Walking on the line Song
ages 3 and up. A partner is required.
Directions: Sing the following song while marching on the Line. When you get to the "a-rig-a-jig-jig" part, grab a partner by both hands and move your arms from side to side. 
As I was walking down the street, down the street, down the street;
A friend of mine I chanced to meet; hi ho, hi ho, hi ho!
A rig-a-jig jig and away we go, away we go, away we go;
A rig-a-jig jig and away we go, Hi ho, hi ho, hi ho!
(repeat)
Color Run
ages 3 and up
Directions: Are you looking for a new use for your sidewalk chalk? Create a color run! On your driveway or sidewalk, draw four to five circles using different colors of chalk. Call out a color and have your child run to that area. Continue to call out different colors in varying order. Siblings can take turns calling out colors for each other.
Yoga
ages 3 and up
Directions: Print out a set of yoga cards and invite your child to try holding each pose for 30 seconds. Children are free to repeat their favorite poses as they see fit. Giggling is allowed!
We're Going on a Bear Hunt: A Cosmic Kids Yoga Adventure
ages 3 to 6 ½
Directions: "We're Going on a Bear Hunt" by Michael Rosen is one of the class favorites in our community. In this 15 Minute Yoga Video, enthusiastic instructor, Jaime, leads the children through a Yoga adventure based upon this classic tale. Enjoy!
Walk a mile
ages 3 to 95
Directions: In light of social distancing and potentially rainy weather, my sister shared this YouTube video, "Walk 15 Family Mile with Nick." Nick is an enthusiastic instructor that leads the entire family through a one-mile indoor walk in just 15 minutes. Have fun!
(Note: There is an advertisement midway through the video unless you have a YouTube Premium account). 
Activities for Control of Movement:
Freeze Dance
ages 3 and up
Directions: Play this game during midday breaks or at the end of the day, following these steps:
Introduce the concept of freezing like a statue. Explain that when frozen, your body doesn't move one inch.
Put on your favorite dance music and start moving!
At a random point, pause the music indicating that everyone should freeze! It may take a few tries to get the hang of it, but over time your children will be able to freeze when the music stops. 
With older children, take turns, allowing them to pause the music while the rest of the family dances and freezes. 

Spoon Balance Walk
ages 3 and up
Directions: Collect a spoon and a variety of objects: a piece of macaroni, a grape, a strawberry, a ping-pong ball, or anything small that will fit into the bowl of the spoon. Go outside and choose a long, straight path (such as the distance between the garage and the end of the driveway). Challenge your child to carry the object on the spoon for the entire length of the path without dropping the object.
The Listening Game
ages 3 and up
Directions: Choose the Listening Game Sheet that is best for you (photo-based or word-based). Go outside and find a comfortable place to sit. Listen carefully to see if you can hear the sounds listed on the checklist. If you hear the sound, check the item off of the list. If no, try listening for that sound on a different day. When finished, draw a picture of the sounds you enjoyed most.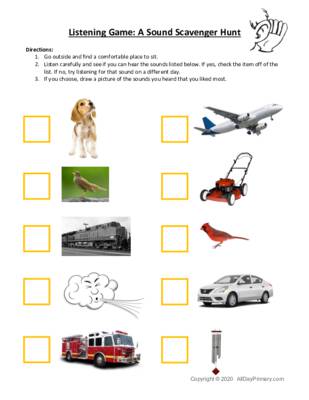 The Listening Game Writing Activity
ages 4 ½ and up
Directions: Find a comfortable place to sit either inside or outside. Listen carefully to all of the sounds you hear. Write the sound on your list.
The Quiet Game
ages 3 and up
Directions: Choose a comfortable place to sit or stand. Challenge yourself to sit in silence (no talking or playing with the Velcro on your shoes) for as long as possible. Siblings can challenge each other to see if they can both sit in silence for one, two, five minutes, or longer! Parents can set a timer to see how long the children can hold the silence.